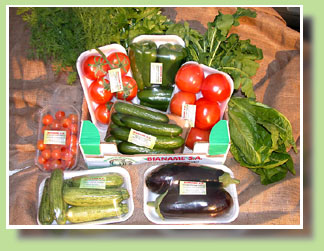 BIANAME Ltd.
(BIOLOGIKI ANAPTIXIAKI MESSARAS)
BIANAME A.E. is the farmers partnerships who produce Biological products in Crete Island, Greece. We're producing high quality Biological products all-over-the-year, according to European criteria and the regulation rules No. 2092/91.

Our company organises and supervises the production, supplies with equipment and fulfils whole gamma of support for farmers - company's partners.

Our central hothouses are situated at Messara Valley, Crete (Municipality of Tympaki, Lagolia region). This region is characterized by ideal meteorological conditions for vegetable production (sunlight, temperature) has rich and productive soil and abundant clean water.

---
Company has all modern equipment, refrigerators, fulfils in-film and carton box packaging and is ready to meet any requirements and standards of modern food inside-E.C. and other countries' markets.